Five Nights At Freddy's Looks Creepier Than Knotweed
Can we bear it?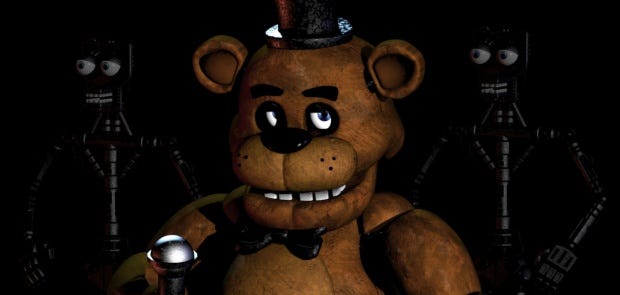 I almost don't want to know what Five Nights At Freddy's really is. I feel like it can never live up to the bemusing insanity of its in-game trailer. A trailer that made an actual l come ol from my mouth at the end.
Freddy Fazbear's Pizza is some sort of grotesque cut-price Chuck E Cheese, where the kids are entertained by animatronic life-size puppets of Freddy the bear and his robot friends. And, well, at night time they seem to come to life. You're hired as an overnight security guard to... do something about it? Prepare to NOPE.
The game's out now on Steam, for £4. And is already garnering rather a lot of YouTube attention. We'll be having a closer look very soon. Because nothing says "play me!" like hideous animatronic bears that come alive at night.