Football Manager 2017 free to play this weekend
FREE FROM RIGHT NOW TIL SUNDAY EVENING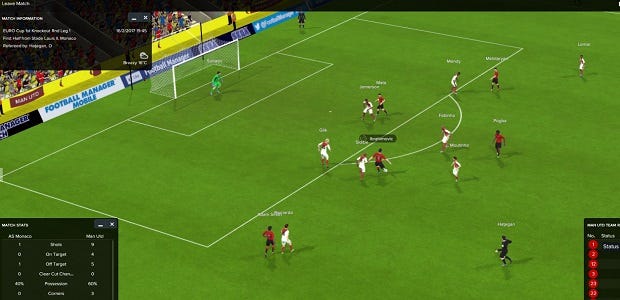 Oh, Sega, your cunning knows no bounds. Recognising, no doubt, that many football fans are itching for some excitement during the doldrums of an international break, they've only gone and made Football Manager 2017 [official site] free for the weekend on Steam. And that weekend starts now, but please don't miss work or school tomorrow and blame "that man at RPS". Blame Sega.
Download the game now and you can play with no limitations until 8pm on Sunday (UK time) and even though I don't think Football Manager is perfect, I guarantee you'll have more fun than you would watching a World Cup qualifier. Especially if you're English because let's face it, if the despair doesn't end us, the hope just might. Merry Footmas!
There's a sale to coincide with the free weekend, so if you don't want to give up your blossoming career as the next David Moyes, you can buy the game at a 50% discount and continue with your save.
"This is the full Football Manager 2017 experience, available to play at no cost for 72 hours from 5:00pm on Thursday, March 23rd until the final whistle blows at 8:00pm on Sunday, March 26th (all UK times). What's more, for those who decide they want to keep the game, it will be available for a fantastic 50 per cent off SRP throughout the free weekend and for a further 24 hours afterwards (until 8:00pm on Monday, March 27th). Any progress you make in your management career over the course of the free weekend will carry through if you do decide to make the loan deal permanent."
Plug in the hairdryer, practice your mindgames, and get to it. If you prefer motor engines to feet like traction engines, Motorsport Manager is also free right now. You could spend the weekend down the pub, but why not pretend to be in a high pressure job instead?