For The King Paves Way For Kickstarter Ascension
All hail the king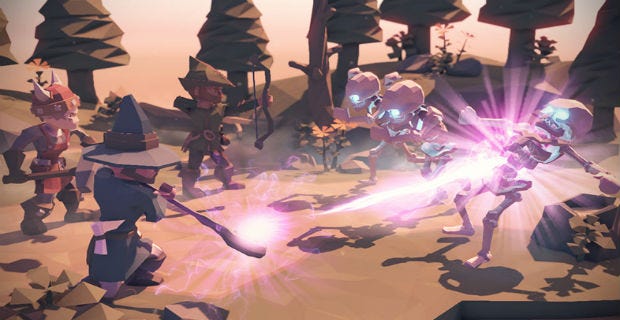 "EXPLORE". "DISCOVER". "SURVIVE". "OR DIE". For the King [official site] trailer's a bit on the bossy side, but I suppose after you surpass your Kickstarter goal by more than double with 21 days left on the clock, then you can afford to be more forthright than not. It's a roguelike which pairs a hexagonal travel map with zoomed-in, turn-based fights, and you can find gameplay trailers below.
For the King is stylised with a low-poly world and, in either single player or online co-op, players can explore a vast procedurally-generated fantasy world on land or by boat, punctuated by the standard roguelike fare of loot and brutes.
Story-wise, the king's mysterious death has forced the queen to call upon the everyman and everywoman of the day - that's you - to step in and sort things out. By things, I mean skeletal knights and golems and the like, and if the game's Kickstarter video is anything to go by, quests into cavernous dungeons are plentiful. You know the ones - the grueling quests that culminate in the capturing of an over-powered weapon, or perhaps by going toe-to-toe with an over-powered adversary.
Aside from the obvious homage to retro RPGs, IronOak Games' game designer Colby Young is the mastermind behind tabletop board game Black Gate, thus it's of little surprise the team arrived at a fantasy roguelike as their first video game venture. What's more, the rest of the crew boast years of experience, having worked on titles like Turok, Ryse and the Need For Speed series. Whilst three of the game's stretch goals have already been met, such as the inclusion of pets, two remain - the last of which will add hot air balloons to the mix. Nice.
You can follow For the King's progress via its Kickstarter page and you can check out a teaser trailer which shows more of the lovely art style here: