Fortnite introduces automated competition and smashing quad bike
Smashing stuff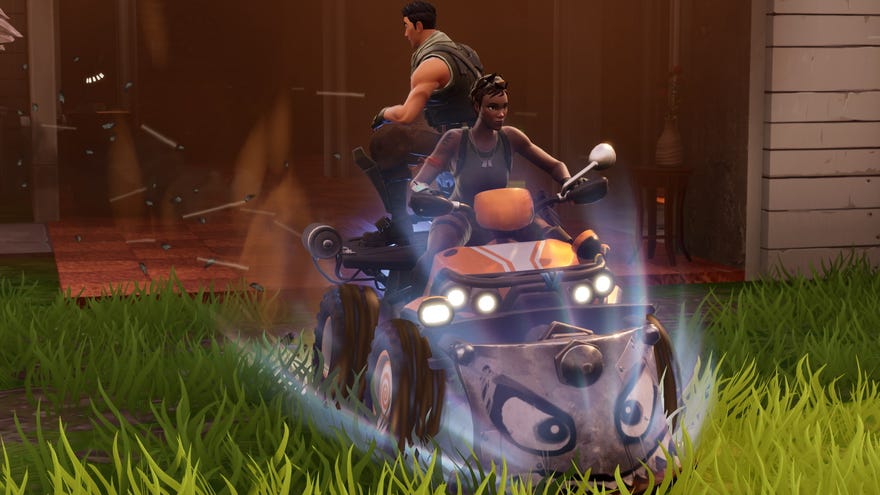 For serious fraggers who wish to challenge themselves and prove their chops, today's Fortnite Battle Royale update introduces an in-game tournament system for regular automated competitions. For twats who wish to lark about making smashing things and making loud noises, the update also added a jet-boosted quad bike with a plough on the front which can smash through buildings. I know which I'm spending more time with.
The Quadcrasher smashes through buildings!
It does sikk inept trikks!
It creates a fine distraction when a big battle is going down in 50v50 modes!
I have enjoyed this vehicle. I don't know if I've contributed meaningfully to anything, but I have made a whole lot of noise.
On the more serious side, tournaments! Fortnite now has a system for automated tournament-ish competitions which run on a curious system that's more free form than the usual brackets. Rather than climbing clear rankings, with the initial events at least, players are simply trying to score enough points to win a 'pin' marking their accomplishment. The varied tournaments and cups run for several days, with each day having a three-hour period to compete in. Get 20 points in any period (earned through multiple kills, wins, or near-wins) and you'll get a pin.
The tournaments don't build towards finals and crowning a grand winner, but the matchmaking will pit you against players with similar point standings so it should get tougher as you play more. Competing for challenge, not domination - and maybe for shinies too.
"In the future, earning a pin may advance you to the next round of a tournament or qualify you to win prizes," Epic said in their announcement. That explains loads more about how it all works too.
The first tournament will start tonight, and run to Sunday the 21st. The initial tournament lineup includes multiple competitions each week, and it looks like 'Friday Night Fortnite' will become a regular fixture at least.
Check the Fortnite v6.10 patch notes for more on everything. Fortnite Battle Royale is free-to-play through Epic's client.
Still trying to get to grips with Fortnite? Check out our Fortnite guide hub for more tips and tricks for the game. You can also find the latest challenges in our Fortnite week 6 challenges guide.