Forza Motorsport 6: Apex Open Beta Live On Windows 10
Zoom zoom!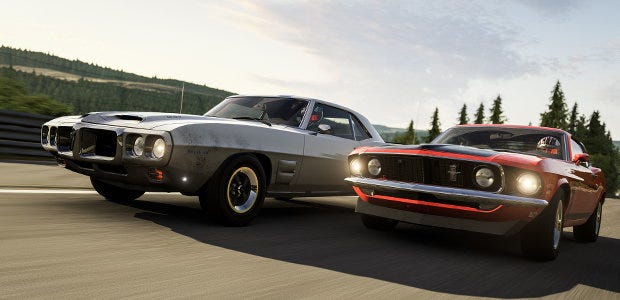 I had expected the PC debut of Turn 10 Studios' respected Xbox drive 'em up Forza would be an all-singing, all-dancing extravaganza, but I missed it happening a few days ago. Er. Well then. Forza Motorsport 6 [official site] is now available in open beta through the Microsoft Store. Yes, it is a stripped-down free-to-play version. No, it doesn't have multiplayer. And yes, it does require Windows 10, though by now haven't we all upgraded to 10 whether we wanted to or not? It's a shame Forza's PC debut is half-hearted but hey, if you want to go zoom, you now can! Its zooms are quite pretty.
The open beta is a step towards a proper launch this summer. Turn 10 will be improving things, boosting performance, adding features, and so on. They explain:
"For example, wheel support is coming to Forza Motorsport 6: Apex and Turn 10 is busy working to ensure that Apex delivers the kind of wheel support, performance, and features that racing fans expect from a range of available hardware. In addition we plan to support additional features that we know are important to PC gamers, such as the ability to disable Vsync and an in-app framerate counter."
Forza Motorsport 6: Apex, to recap, is a free-to-play version of the Xbox One racing game. It doesn't - and won't - have online multiplayer, focusing on zooming round tracks against your friends' digital ghosts, their trained carbots, the AIs they raised like children then locked inside a ton of screaming virtual metal - their Drivatars.
What my friends don't know is that my Drivatar was conceived beneath a full moon on an obsidian Xbox, thirteen of my dearest sisters flowing into its eldritch circuits. Think carefully before you cut my Drivatar off round a hairpin bend.