Dealing With Death: Fragments Of Him Out Now
Lives after death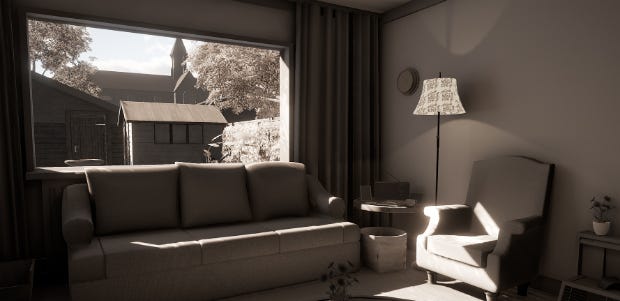 Fragments of Him [official site] is a sobering "interactive narrative experience" that examines love, loss, and the fallout those left behind are forced to deal with in its wake. It explores the lives and innermost thoughts of three individuals loosely related to its recently departed central character, and in turn portrays a less whimsical (and possibly more relatable) slant on the It's a Wonderful Life concept. It's somber, but intriguing. It's out now and has a trailer:
After a tragic accident claims the life protagonist Will, Fragments of Him tells its story from a second-person perspective via his ex-girlfriend Sarah, his boyfriend Harry and his grandmother Mary, as they each come to terms with their loss.
"The player plays through the events and the locations as if they were the spirit or intellect of the characters, making decisions and starting actions that progress the story," say developers Sassybot. "Follow the story of Will as you see how he influenced the lives of his grandmother Mary, his ex-girlfriend Sarah, and his boyfriend Harry. Through this snapshot of their lives we see that when a young man suddenly dies, left behind there will always be Fragments of Him."
Between its mannequin-like depictions of characters, and eery piano-led soundtrack, Fragments of Him is suitably dark - a theme driven home by its powerful writing. I imagine most people who've lost someone at some stage in their lives will be able to draw parallels between their own experiences and its two hour-long narrative, even if the specifics differ. Once finished, I'd recommend checking out Allegra Frank's Polygon piece that discusses the cathartic effects the game had on her own encounters. It's a heartfelt and interesting read.
Fragments of Him is out now on Steam and the Humble Store for the discounted launch price of £13.49/17,99€/$17.99.