Freehistoric: Dino Run SE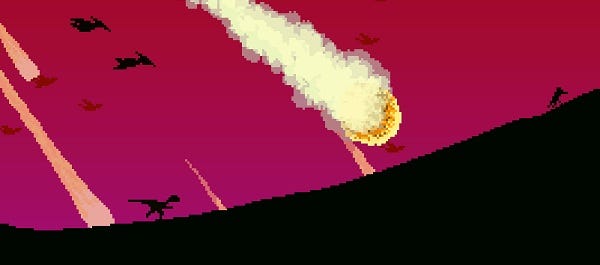 Let's start off today with something free that could eat up a massive chunk of your Friday, in bite-size portions. You may remember Pixeljam's Dino Run, it entertained John many a moon ago, back in the days when death by meteors actually seemed more likely than death by economic collapse. Detailing the last days of the dinosaurs in documentary-style pixel graphics, it's a hectic race for survival, as meteors slam into the ground seeking to obliterate all life. The special edition allows you to customise your dinosaur (hats, dinosaurs in hats) and includes a couple of new modes, one of which allows multiplayer racing (several dinosaurs in hats). As part of the pack, which is only free today and tomorrow, you'll also receive Space Rubbish and the spiffy soundtrack albums to both.
One day, a new sentient species will arise, kicking away the dust of our greatest achievements and uncovering the occasional pair of human skeletons, locked in their final embrace as civilisation collapsed around them. In the new world that arises, some clever sort will make a game called Person Run and they will force tiny representations of our kind to flee disaster of our own making while wearing comedic shoes and bowties. You know this to be true.
Dino Run SE is available on Windows, Linux and iOS.