Freelite: Ghost Recon Online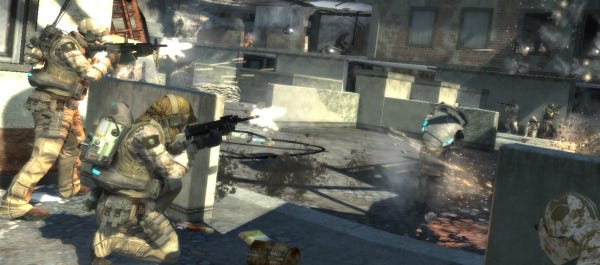 The hamsters of Ubisoft Singapore's employees must have the most luxurious cages of all the rodents. I imagine their owners coming home with a pile of Tom Clancy books and world bibles and tossing them at the paper-loving cricetinaes, saying: "we don't need these anymore". Ghost Recon Online looks like a fun free-to-play shooter, but realism is not its focus, as is evident in the trailer below.

Take the Assault class: he has a portable pack that deploys 'heat', dropping a column of boiling hot air over your target and disrupting them. In fact, most of the special abilities are little more than legitimised hacks. There's almost no chance of me not playing Recon, given he can turn invisible and use a 'visual interrogator': basically a wallhack. The Specialist class has a portable shield, a dome of light that can reflect bullets.
It does look like fun, and Ubisoft's shooters tend to be enjoyable, if rather niche, but realism has been drop-kicked through a fan with this one. Good.