Freeware Garden: Does Canned Rice Dream Of A Napkin Heap?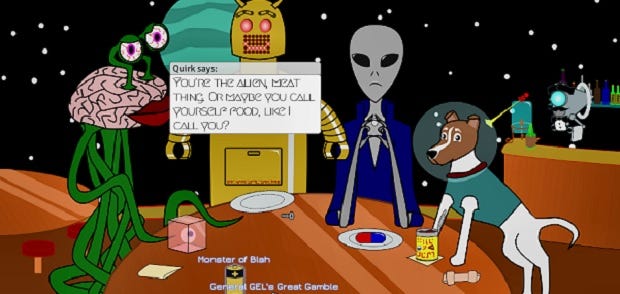 Would you like to tell a story? Of course you would, you are only human, but why rush over to Twine when you could craft your story by playing through Does Canned Rice Dream Of A Napkin Heap? and sharing it with a couple of aliens, a life-hating robot and a dog in a space bar (also, the internet)?
Using the items at hand, you'll be able to tell the tragic tale of a group of lost soldiers in the fog, using a napkin to represent the fog and a bunch of screws to represent the soldiers. DCRDOANH is an Antholojam entry that will let your creativity run rampart in the most playful of ways. Hell, it might actually inspire you to write a demented short story of your own.
The game starts you off by asking whether your story will take place at a lawfully regulated and colonized locale. Then it asks, via a very Russian space dog, whether animals and humans make friends in the story and it's only after you are prompted to type your work's title you'll realize you actually have to write bits of your own story.
You'll have to name your setting and describe what your storytelling tools - be they pills, batteries or fake bones - each represent. This could be anything from a hero to a piece of scenery and you'll get asked all sorts of questions regarding them. Questions that will help you better define your actors.
Then it's up to you to come up with interesting lines, a smart plot and imagine yourself in a space bar actually trying to entertain your small, sci-fi audience by moving things around the table, wildly waving your arms and speaking words that are hopefully good enough to get you a free meal.
Looking for more free games? Check out our round up of the best free PC games that you can download and play right now.