Frostpunk will come in from the cold on April 24th
Survival, at what cost?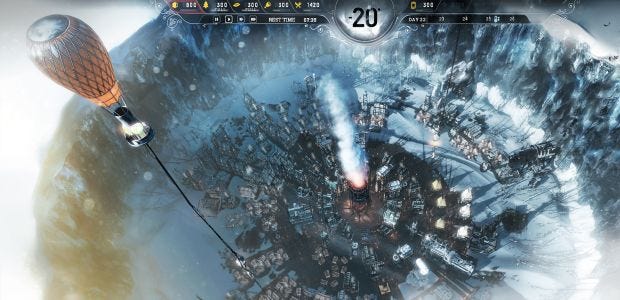 Imagine: Frostpunk, the city builder about ensuring a society's survival by making trying moral decisions, is at your door demanding to know if you're sheltering any innocent video games. Do you lie and turn the personified would-be game murderer away, or accept that there's a universal moral imperative to tell the truth regardless of the consequences?
I'd imagine that's exactly the sort of dilemma you'll have to wrestle with when Frostpunk comes out on April 24th. It's the latest effort from the This War Of Mine devs, and when Adam played it last year it was shaping up to be a chiller success.
That's you, that is.
In Frostpunk, you see, it's your job to manage both the infrastructure and society of a city struggling to survive in the frozen aftermath of an unknown global calamity. You'll have to make choices like whether to put children to work, endorse cannibalism or even euthanize poor injured folk who can no longer earn their keep. Morale is important, but if you make promises you can't keep then you'll end up like Johnny Frozen in that trailer.
The game sounds like a meaty burger of a city builder packed with juicy moral pickles. As Adam says in his preview, it's neat that those tricky decisions stem from systems rather than narrative:
"In an RPG where moral choices spring into a dialogue tree, I only ever pick the nasty options if I'm roleplaying a nasty character. By framing these choices in a citybuilder, where management of resources is key, 11bit are aiming to create genuine dilemmas. There's a very real chance that playing my way, trying to do the right thing, will create a chain reaction that leads to death and ruin down the line."
What is the right thing then, eh? Establishing lines that you'll never cross is all well and good, but I'd rather be on the side of the line where I've got a warm belly full of human flesh than the one where I'm starving to death in the cold.
Frostpunk comes out on April 24th, and will be available on the Humble Store, GOG, and Steam for $29.99/€29.99. As far as I can tell, 11 Bit Studios haven't announced the price point in pounds.