Funcom Announce The Secret World Spin-off The Park
Boo!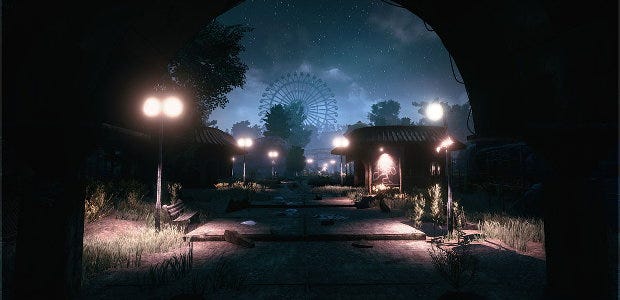 Update: "The Park is absolutely set in the universe of The Secret World," tweets Funcom creative director Joel Bylos.
I've wished that Funcom's MMORPG The Secret World had been a single-player game instead and it looks like... I'm still not getting my wish. However, the MMO-focused studio have revealed a single-player horror game which seems to have a little of that TSW tone. The Park [official site] is a spook 'em up about a mother who takes her child to a theme park, then terrible things happen. Come check the teaser trailer (but mind the flashing lights):
Funcom don't have much to say about the game so far, but here's what we know from that YouTube video's description:
"Amusement parks are happy places, filled with the innocent joys of childhood and the exhilarating rush of hair-raising, but safe adventure. Balloons, cotton candy and fantastic rides to be dared. Perhaps that is how Lorraine pictured it too when she brought her son Callum to one... just before it descended into the most terrifying nightmare of her life.

"The Park is a single-player horror experience developed by Funcom, set against the backdrop of an amusement park where a dark and sinister secret is just waiting to be uncovered."
It is also, at the very least, reusing some assets from The Secret World's haunted theme park. One ride shown in a screenshot is The Atlantic Park's Octotron, and that ferris wheel design looks familiar too. Still, that might be canny re-use of assets rather than a sign that they're set in the same world. My dreams are crushed again.
The Park is due to launch this October. Funcom have made single-player games before, of course, but it's been a few years - their last was Dreamfall: The Longest Journey in 2006. That series has since continued at creator Ragnar Tørnquist's own studio.