Gabe Says Valve's Business Grew "50%" In The Last Year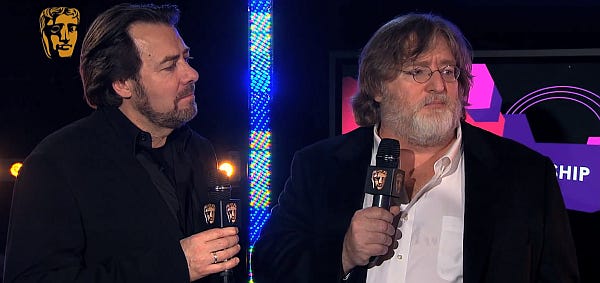 This is kind of cool. When Gabe Newell accepted his BAFTA fellowship last week, he crowd-sourced his speech in the Valve offices. All he received was sarcastic responses, which he then told to the audience. He was then interviewed backstage, and without the yoke of his cruel workmates he dropped a few amazing stats. The first one is that Valve's business grew massively in the last year, by about 50%. I'll bet it's mostly Dota 2 related. And it's an easy way to put paid to the notion that Valve's recent lay-offs might be because of financial trouble. That was never going to be the case, but now it's unfathomable. The other one is actually more impressive, and I'll tell you that and include the video below. You'll never guess.

Now he might be just trying to help out the slightly clumsy interviewer, or maybe's attempting to impress Jonathan Ross, but Gabe drops a Steam bandwidth bombshell, saying that one recent Dota 2 updates was responsible for 2% of all mobile and land-based internet activity at the time it was released. Guh? Is that even possible?
He also plays Trouble in Terrorist Town. I play that! If we were in school, we would now be best friends.