Game Design At 8: Alien Black Hole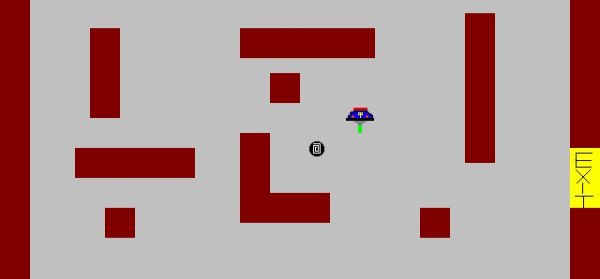 Thanks to Phill for pointing us toward Alien Black Hole. It's the work, so the website claims, of an 8 year old called Ross, who using Game Maker published it on his site, Thunder And Lightning Games. Now, we were once 8 year olds, and we remember we spent most of that year laughing at farts, falling out of trees and running away from girls. (Please note the obvious joke being omitted here.) We're a little suspicious. Because despite its extremely simplistic appearance, it quickly reveals itself to be a rather good idea. 8 year olds don't have good ideas, do they? The enemies that follow your ship around, chasing you as you aim for the exits, also destroy the level's walls when they get near. Soon those walls are in your way, so you're going to need the pursuing enemy's help. Smart, eh? It's a very little download, you can get it from here.
Ross is asking for donations to fund his purchase of a new laptop, so he can make more games. And there's a unique way of leaving feedback for the game:
"If you donate £5 or more I will send you the full version of Alien Black Hole with extra levels! If you want to say what you think you can email my dad."
It's a tough game, as it happens. One mistake (and often that mistake can be Game Maker's, with its dodgy default controls), and it's back to the very start.
I really hope this is for real. And apologies for posting this at what will definitely be after Ross's bedtime.