Cover This: Gears Of War 4 Vid Shows Physics Traps
Trap me good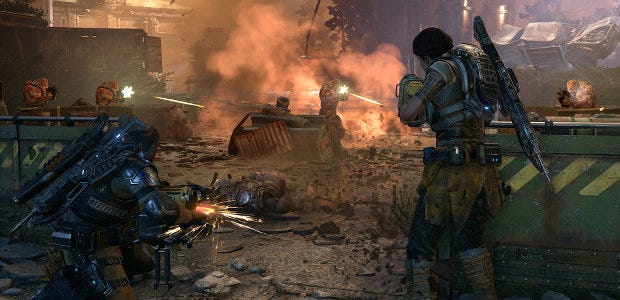 After years of only being able to see the shadow of Gears of War on PC - innumerable games about crouching behind waist-high concrete blocks - we're getting to play it again. As part of their latest commitment to PC gaming for ever and ever for really real this time, Microsoft released the first game's remaster for Windows 10 and have Gears of War 4 [official site] coming too. What's exciting in 4? In a new seven-minute gameplay trailer, at least, the answer is wacky Dark Messiah-style physics deathtraps in one section of a level. Well, I wouldn't say no!
That's a nice-looking storm, that. And yes, I do adore that strange collection of scrap are conveniently stacked against delicate barriers. Be terrible if a storm were to swing by and turn this ugly landscaping into a deathtrap, wouldn't it?
Also, when did Gears of War get so many gibs? Gears 2 is the last I played and I am delighted by how many enemies are exploding into wacky gutlumps.
Gears of War 4 is coming to Windows 10 on October 11th. It'll be an Xbox Play Anywhere game, meaning folks get a copy for Xbox One too and share progress and whatnot between platforms.
I'm thankful for everything Gears gave us, by the way. Sure, many of the cover shooters chasing it were mediocre but that doesn't mean their makers would've otherwise created masterpieces. I can't imagine we'd have seen Platinum's astonishing Vanquish without Gears either. I still dream that Vanquish will one day come to PC. Oh gosh, maybe even 50 Cent: Blood on the Sand too.