Geneshift is a homage to GTA with mutant multiplayer
Car blimey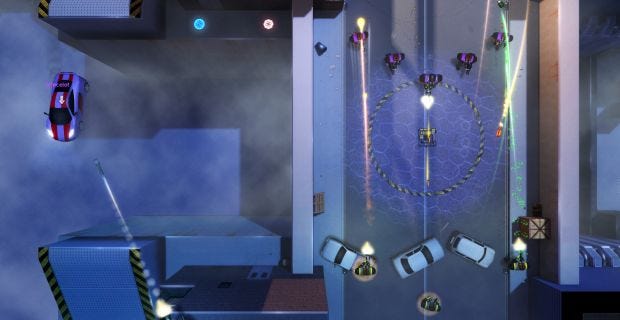 Before Grand Theft Auto became a slightly-overwhelming bizarro vision of the American Dream, it was a chaotic, meaningless romp from the top-down. Geneshift [official site] seems to want to recreate that chaos. But with up to 32 people and a big old skill tree. I don't know if that's a mad idea or a brilliant idea, but it's definitely something. You can see it in action down there.

Looks a bit wild. It's "a top-down shooter with vehicles and mutant powers," says developer Ben Johnson, "a bit like GTA2 with the abilities of DOTA2." There's multiplayer murder in the form of various 16 v 16 combat modes, and a 4 player co-op campaign. Skills include force fields, invisibility, and "plasma balls". Cars let you race away, do drive-by shootings, or place and detonate car bombs.
It's entering Steam early access on April 27 and it looks like there's a demo on the official site but you may have to create an account to play. I don't know how it handles but it sounds about as videogamey as videogames get. I knew you'd be interested. Unless you're not, in which case, BOG OFF.