Get Streetwise in Urban Pirate
Stick it to The Man!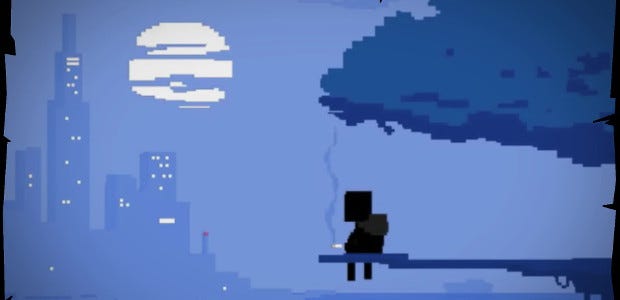 Sheep Island is a rough and tumble kind of place, riddled with corruption, serial killers, and the general chaos plaguing the modern world. You're plain sick of it, to be honest, so do you engage in peaceful protest? Write to your government representative? Nay. It's time to take to the streets, raid some dumpsters, and do some neat tricks on your skateboard. This is Urban Pirate [official site], and it is all about shoplifting, and spray-painting, and living life on the edge because SOCIETY, man.
Urban Pirate could be described as a petty crime sim with RPG, sports, and time management elements. You'll have to survive on the streets, robbing stores and dodging the police to survive. Pirates can raise their "street credit" to cash in on new equipment and higher levels as they make their way up the ladder to become the biggest name in the slums.
There's plenty to do on the side, too. There are raves to attend, skateboarding skills to master, buildings to squat in, and trains to graffiti. Who knew that being a criminal could be so time-consuming? It all looks pretty slick, too, with its 8-bit graphics and original music.
Urban Pirate is out now for Windows on Steam at £4.99/6,99€/$6.99. Mac and Linux versions will follow.