Getting Over It requires a resolve Matt doesn't have
A challenger has arrived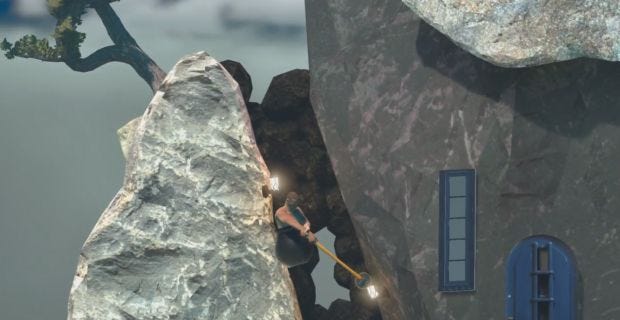 You may have witnessed us trying difficult mountain climbing game Getting Over It With Bennett Foddy. Last week Matt attempted to scale part of the mountain, clambering over rocks, girders, concrete pipes and wooden barrels using nothing but the game's jerky sledgehammer and terrifying upper body strength. He did well. But Matt lacks a deeper comprehension of summits and the ascent thereof - a philosophical understanding I myself possess. So I decided to pick up where he left off. Come and watch me Getting Over Matt.
As you can see, my approach is more disciplined and, some would say, superior. A reckless mind begets a reckless hand, and there is no room for such things here.
I doubt Matt will ever get beyond this point.