Spooks! It's Ghost Recon: The F2P MMO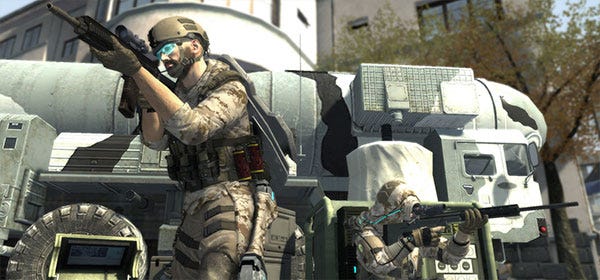 So, that major new PC game Ubisoft were on about the other week? It's not Assassin's Creed Online. It's not World of Rayman. It's not Multiple Splinter Cells. It's not Silent HunterVille. It's Tom Clancy's Ghost Recon Online, it's a third-person tactical shooter, it will be free to play, and it will be PC-only. Is Mr Clancy OK with that? I bet he doesn't like giving stuff away for free.
Find out more and watch the first video of GRO, as I've decided everyone will probably start calling it, below.

It will be funded by minipayment 'premium items' but no word yet on if those are purely cosmetic or make you into more of a hard nut. Sounds as though it's going fully for the shooter hardcore rather than casual players - so more in the vein of Battlefield Play4Free than Battlefield Heroes. The games industry spent most of the last year speculating that Call of Duty would go down this route, so it's interesting to see other companies getting there first. What does happen to GR:O and BF B4F in the event the mysterious new COD project, Beachhead, is in a similar vein?
Right then, traaaaaaaaaaaaaaaaaaaaaaaaaailerrrrrrrrrrrrrrr:
And here's a distillation of what we know so far about Ghost Recon Online:
- It's "developed by Ubisoft Singapore, and offers all the best qualities of the Ghost Recon franchise in a downloadable, dynamic, PC-based online game."

- Closed beta kicks off this Summer. Isn't it Summer already?

- It's "the most social, connected and customizable Ghost Recon experience yet," which probably means it's not going to be much like GRAW.

- You choose between three different classes of Ghost, with customisable weapons and tech.

- Persistent progression stuff, so it's in the cloud or whatever.

- The maps and graphics "rival the quality of those traditionally seen only in retail games." It's unlikely to be a browser game, then.
You can apply for the beta and stare at some more screenshots here, now. Like, right now.