Giant Machines 2017 Is A Sim About Giant Machines
G I A N T M A C H I N E S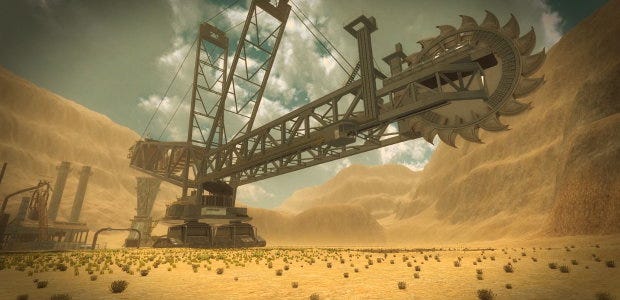 GIANT MACHINES!
HONKING GREAT HONKERS RUMBLING TO A PC NEAR YOU
MEGA-MINERS! DONKING DUMPERS!
DEVOUR MOUNTAINS! SCHLEP SPACE SHUTTLES! DEMOLISH DEMOLISH DEMOLISH!
G I A N T M A C H I N E S
Giant Machines 2017 [official site] is a lightweight simulator about completing missions in mahoosive machines. Shuttle a space shuttle on a mega-crawler and attach its booster rockets with a mega-crane! Tear into a mountain with one of those wheel-mouthed mining alligators! Demolish structures! Dump like a truck, truck, truck! Lift! Haul! Smash! GIANT MACHINES.
It's fair to say that the concept and name have me a wee bit excited. PC gaming has loads of janky niche sims, building and demolishing and lifting and dumping and whatnot, but Giant Machines 2017 is on a scale that speaks directly to a five-year-old's imagination. Which is apparently still somewhere inside me. GIANT MACHINES. I'd be astonished if it's not wonky and a bit tedious and disappointing but GIANT MACHINES. My day is made by the very idea of it.
Giant Machines 2017 has a 'story campaign' with missions combining several machines, as well as time attack missions and a Machine Library to stare at GIANT MACHINES. Publishers PlayWay explain:
"During the 14 mission campaign you will punch through the snows of Greenland, plow the steppes of Wyoming and travel all the way to sunny Florida. Your hard work will be completed by launching a space shuttle to the International Space Station."
TO THE ISS!
Giant Machines 2017 is out on Steam for £11.99/15,99€/$15.99, which includes a launch discount.