Destroy all monsters! Gigantic released
A big big love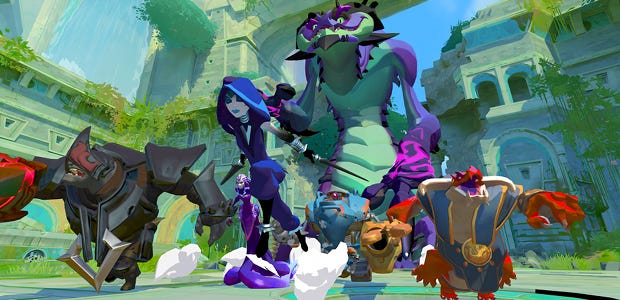 Gigantic, the free-to-play multiplayer brawl-o-shooter where each team has the support of a honking great monster, has left early access and launched in full. It offers class-based 5v5 fisticuffs, and did I mention the big monsters? Matches climax with the two bigguns scrapping, see, each team trying to help their megafriend out. It's a bit MOBA-y, but what isn't nowadays? Here, have a look in the launch trailer:
The update bringing Gigantic to a full launch introduces a new character, text chat, tutorial improvements, and plenty of tweaks and balance changes. See the full patch notes over here for full details.
Gigantic is free-to-play through Steam and publishers Perfect World's Arc client, though the Steam version goes through the Arc launcher anyway. It's also on the Windows 10 store but that version can't play with Steamers, only other Tenners and Xboxeers. If you've played on the Windows 10 version, you can transfer your account to Arc.
As is the usual free-to-play way, characters can be unlocked with a virtuacash earned while playing or with a microtransaction currency. If you want to skip that, you can pay £23.99/29,99€/$29.99 for the 'Ultimate Pack' upgrade which includes access to all present and future characters. People who paid for the Founder's Pack before launch are upgraded to the Ultimate Pack and get some extra shinies.