Go Quest: Talisman Finally Coming To PC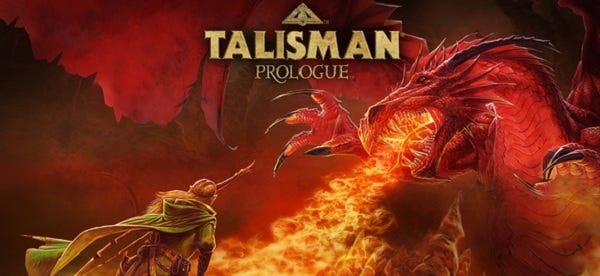 How did we miss this? Talisman is going to be a PC game! The looting and levelling fantasy RPG was the first boardgame I owned that you'd never find in a hotel lobby on a rainy day. Cluedo, Monopoly, Mousetrap, Ghost Castle - those had been my initiation into the cardboard arts. I can't remember how Talisman came into my possession, I was too young to have money of my own, but I do remember it was like someone had taken a Fighting Fantasy book, liberated it from the page and made it even more tangible. Well, soon it'll be even less tangible. After development of a 2008 version 'misfired', the rights to the title reverted to Games Workshop and they have commissioned Nomad Games to computerise the quest.
Do you want to see a trailer for a vidjagame adaptation of a fantasy-themed board game? OF COURSE YOU DO.
This news should excite Alec, who astutely described Talisman as a "proto-MMO fantasy grind", while bemoaning the lack of a PC version. There is a lot of grind, running around the board, biding time until the assault on the centre is feasible. In what may be an unfortunate move, rather than being a piece-for-piece conversion, the initial release, Talisman: Prologue, will be a single player game, where the original is for 2-6 players.
Perhaps releasing a Prologue is a way of putting Talisman onto computer sooner rather than later, while a full non-prologue is developed, but if so after such a long wait, I think those eager to play would be happy to wait a while longer. It's also possible that this is a toe in the water, a test to see if a full version will sell, or work satisfactorily. Or there's simply no real desire to create a version of the game that doesn't require a tabletop, that will probably require less cash and time investment, and may cannibalise sales of the physical version. With a port to tablet expected following the PC release, the fear of digital replacement seems quite likely. It's almost certainly the reason some of the more complex boardgames out there don't have an alternate digital version.
I love boardgames. I love having the boxes looking down at me from the shelves that are their home. I love holding things, passing tokens and dice around a table, and making up ludicrous drinking game rules for everything. I would never want to replace them, but particularly with games that suit solo play, I'd sometimes like to enjoy the stories and flow without packing and unpacking a lot of kit all on my lonesome. Basically, I'm still banging on about the Arkham Horror digital edition that I so crave.
Talisman's good too though, even if the Prologue might be incomplete. A full version - and loads of DLC - is no doubt at least a greater possibility now than a year ago. What boardgames would you like to be playing on your PC right now? Or does the whole idea seem oddly diminishing as to their true qualities?
So tempting to load up Dangerous High School Girls In Trouble right now. So tempting.