Go West: Dead Rising 2 Off The Record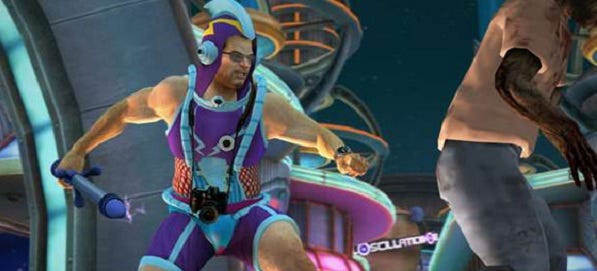 Dead Rising 2: Off The Record is out October 11th, revisiting the sequel's crazed casino-mall through the eyes and lens of the original game's swaggering photojournalist Frank West. Both the protagonist and the trailer are delightful because they appear to take themselves far too seriously but swiftly degenerate into surreal, nonsensical madcappery. It all looks rather bleak and ill-judged, with the tale of a once great man fallen on hard times. And then the theme tune kicks in and it's suddenly more Saints Row: The Third than George Romero. Just remember...his name's Frank.
Nobody eats quite like Frank West, with his plastic popcorn that doesn't come out of the tub and demurely shoving entire lobsters into his face. Along with technical improvements and Frank's photo skills, Off The Record will include new enemies, new vehicles, new weapons and new environments. There will also be a sandbox mode with no time limit, for those who just want to wear ill-fitting clothes and hit zombies with toy hammers. Who isn't up for that?