God of painting Bob Ross is coming to Smite
The joy of smiting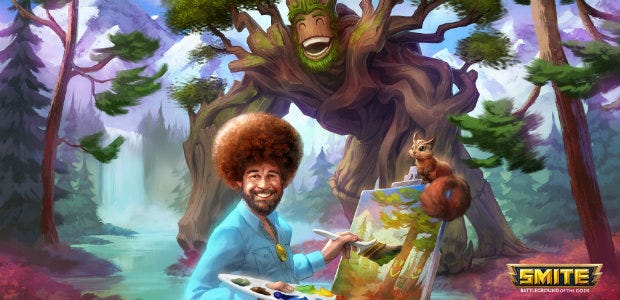 Here's some words I never thought I'd write: Bob Ross is coming to Smite [official site].
The soft-spoken painter, famous for his excellent hair and The Joy of Painting TV series, will feature as a skin for Sylvanus, riding atop a treant and flinging paint.
Cult hero Ross, who passed away in 1995, is also getting his own jump stamp, loading frames to turn card art into paintings and a new loading screen, featuring a backdrop of one of his works.
Ross gained attention within games in 2015 through a nine-day Twitch marathon of The Joy of Painting, and Joy has since become a regular feature on the livestream site.
I've wiled away many an hour listening to Ross's soothing tones – "We don't make mistakes, we just have happy accidents" – so I'm glad this unlikely tie-up is a thing.
The Bob Ross Bundle will be available on 9 May and will cost 700 in-game gems or $9.99 on Twitch Commerce.
The news has also prompted me to look up some of the great man's glorious quotes – here's 50 of the best.