Good Day To Defy: Defiance Shoots For A Seamless World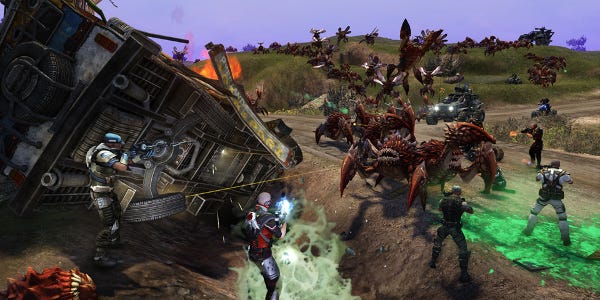 I must confess that, for the longest time, Defiance was just "that game with its own Syfy TV show" to me - probably because that seems to be exactly what Trion and Syfy wanted me to think. Well, they probably also wanted me to think "Syfy, a magical one-stop destination for all my science fiction and Sharktopus needs that I don't totally begrudge for unceremoniously pulling the plug on Battlestar Galactica: Blood and Chrome," but I digress. Now the media power couple that is, itself, basically a plot out of a sci-fi novel has finally seen fit to give Defiance's inner workings a proper spotlight. And, if I'm being honest, it's not looking half-bad.
I'm definitely digging the idea of a big seamless world where - if I so choose - I can just go ramp ATVs off cliffs for a while. (I hope that's the plot of at least four episodes of the show.) Meanwhile, the Rift influence is obvious, given that the place is overrun with giant beasties of all grotesquely unnatural shapes and sizes.
And it sounds like PVP is getting some serious attention too, although separate, instanced levels make that aspect of the game sound a lot more like a traditional third-person shooter than an MMOFPS. Perhaps, though, Trion's Defiance team will take some cues from Rift's brand new open world PVP before it's all said and done.
MMO shooters like All Points Bulletin and even Firefall have served up some pretty malnourished PVE content, so here's hoping Defiance can strike a better balance between shooty-shooty and shooty-questy. Or, failing that, fingers crossed that it'll at least let us hunt a Sharktopus.