Gouraud Shading In The Myst: Myst Remake Gets Remade
Can I get a Witness-like?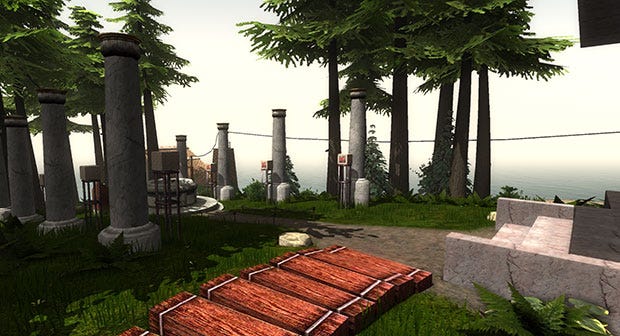 Do games still use gouraud shading? Probably not, but it's the only relevant word I could think of that sounded even slightly like 'gorillas'. Myst is ancient source of division amongst PC gamers, and also one that's never quite managed to go away. Remade in 2000 as both Myst: Masterpiece Edition and realMyst, with any number of ports and sequels and spin-offs since then, it's now back again again as realMyst: Masterpiece Edition.
There's still no sign of a Pyst remake, however.

While the original realMyst was somewhat disowned by original Myst's co-designer Robyn Miller, I'm too bloody confused by now to have even the faintest idea of whether fandom will consider realMyst: Masterpiece Edition to be good or evil. I believe one complaint focused on the fact that realMyst offered full freedom of movement, as opposed to Myst's click'n'travel system, but this new version offers the choice of either.
I can tell you that I've had a quick look at it though, and it wouldn't be accurate to say it's particularly modern or sexy-looking, though it certainly wears its 21-year age well. The free-roaming and the 3Diness are courtesy of Unity, but if you object to all that and prefer to play in Classic mode, you can also summon up the original graphics with a keypress, like in those Monkey Island remakes a while back.
There's also minor additions such as auto-save, a flashlight and a hint guide thingy, to make it a less arduous experience for the unaccustomed or the impatient.
Recalling infuriated experiences with it as a child, I am quite sure that Myst isn't for me in any form, I fear. Just thought I should tell you this here remake of a remake has quietly slipped out, though. If you already own realMyst on Steam, this one is 33% off.