Grab 32GB of DDR5-6000 RAM for $150 after this Newegg discount
*With (optional) RGB, or without RGB for $133.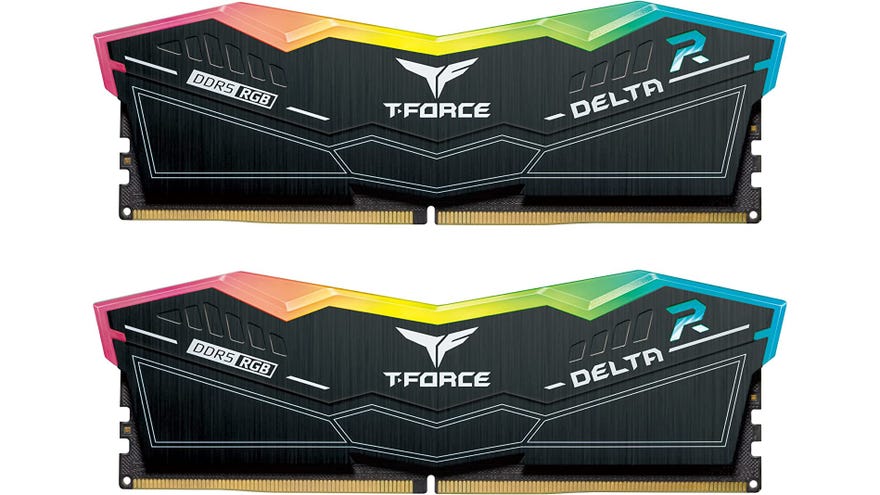 DDR5 RAM is steadily getting more affordable these days, and even surprisingly high-end 6000MT/s kits are going on sale. That's the case today with this deal on a 32GB dual-channel kit of DDR5-6000 from TeamGroup, specifically their T-Force Delta RGB RAM. It's been reduced from its ridiculous launch MSRP of $339.99 down to $149.99, a great price for this spec and especially for a kit that comes equipped with RGB lighting.
(If you'd prefer the same kit without RGB, then it can be yours for $133.)
According to reports from Reddit, this RAM uses SK Hynix memory modules, which are among the best you can get for overclocking - some users were able to hit 7000MT/s, which is incredible, while others managed to also reduce latency. RAM overclocking is a fun pursuit for sure, but with DDR5-6000 RAM you'll get the vast majority of the performance available just by setting the XMP/DOCP/EXPO profile in your PC's BIOS.
This kit is also right at the sweetspot for AMD Ryzen 7000 systems, 6000MT/s, as this is the fastest speed at which the infinity fabric can be set 1:1 against the RAM speed. For speeds higher than 6000MT/s, it falls back to a 1:2 ratio which allows the memory controller to keep up but incurs a small performance penalty. I believe Intel doesn't have a (soft) cut-off like this - I'm still learning about DDR5 too! - but of course you will be seeing diminishing returns in terms of performance gains versus additional dollars spent.
Therefore, DDR5-6000 seems to make a lot of sense for both AMD and Intel systems, as you get a performance benefit over the default JEDEC DDR5-4800 spec while not spending an arm and a leg on extreme overclocking style kits that provide only relatively modest gains beyond this. If you're in the market for DDR5 RAM, why not give it a shot and let me know how you get on?