Grab Them By The Eyes: Signs From Terry Cavanagh
Sign of the times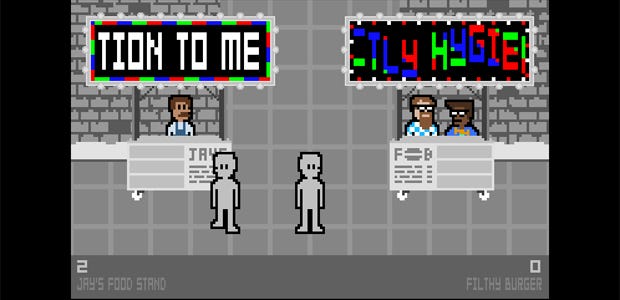 This morning I have been enjoying Grab Them By The Eyes [official site] - a game by Terry Cavanagh about the cut-throat business of selling burgers on street corners.
But it's not about who has the best burgers - that would be ridiculous. It's about who has the best burger signage and thus you must compete with your rival street corner businessmen to buy messages, colour effects, borders and customised text movement for your neon monstrosity.
It's a neat little thing but let me give you a tip before you start because I think not knowing it in the first round caused me to lose my street corner spot to a couple of young jerks: as you purchase sign options the rest of the options will shuffle down to occupy any vacant cheaper spots.
In the first round I was so excited about rainbow text I picked it up for $50 leaving my rivals free to buy everything else at $10. It put me on the back foot from the start. The number of customers each option will attract also decreases with each usage because the people demand novelty, making it a lot harder to recover from the initial setback.
That conclude's Businesspip's Business Seminar For Business People.
Grab Them By The Eyes is available free of charge on Terry's site.