No More Grand Theft Auto Online Heists Any Time Soon
Crime-o!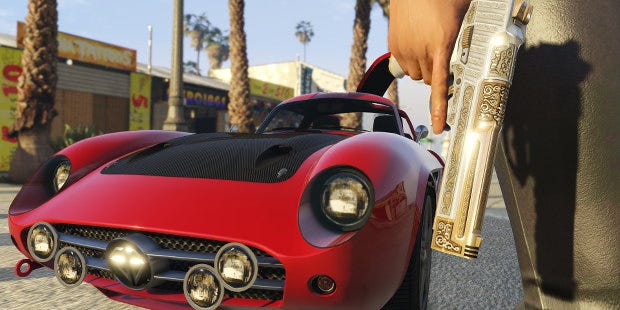 Imagine if criminals became bored of crimes. No more robbery, no more murder, no more rob-o-murders, and a load of former perps playing tennis and swimming in mountain pools together. Oh, what a world! But for players of GTA Online [official site], becoming bored of crimes sounds awful.
Dearest friends and sweetest murderers, cherish your crimes. Don't treat them as chores to rush through. Relish the time they allow you to spend with friends, high on adrenaline. You see, it sounds like it'll be a while before any more Heists arrive. Other multicrime bits are coming, though.
Asked about new heists and uses for stolen wealth, Rockstar responded in their latest community Q&A session:
"To vens243 and others who are excited to show off their Heists spoils, beyond the many new vehicles and items that arrived to GTA Online as part of Heists, we are also working on another update coming soon that will feature some very cool new toys for you to enjoy and flaunt with your ill-gotten gains. For now, the screenshot above provides just a glimpse... For those asking for more Heists, please understand that Grand Theft Auto Online Heists were a tremendous undertaking so it's not the sort of thing where we can easily create and publish additional Heists like other Job modes and missions. We are, however, working on other cool updates for GTA Online that you can expect over the coming months."
Cherish your crimes, friends. Take pleasure and pride in your work, but remember that it's really about the experience, the time you share with others, and the bonds that build with your crimepals. Also, it looks like you'll be able to buy some really gaudy guns at some point.