The Impossible Bicycle: GTA 5 Screenshotified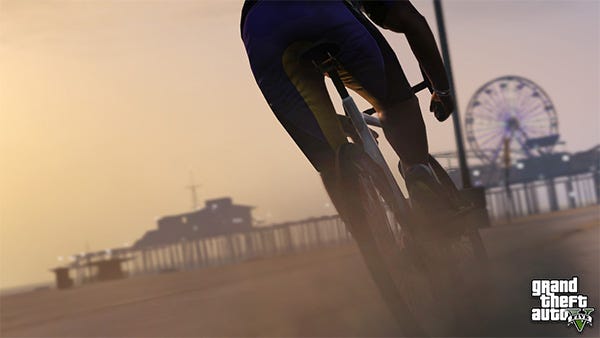 For every Rockstar game since Vice City, the promotional screenshots have been rendered on a PC that only God herself could own, post-processed by a version of Photoshop from the 24th century and employed camera angles that you could only play the game from for 2.7 seconds before driving into a wall. It's oddly reassuring to see that rich tradition continues with the latest round of screenshots from the little-shown Grand Theft Auto 5. Click for embiggenation of all of these.
Behold! A snazzy-looking bicycle as ridden by a man wearing the most heavily anti-aliased lycra trousers you've ever seen!

Behold! The arse-end of a sports car, albeit with rather less anti-aliasing!
Behold! A military plane carrying lots and lots of bombs that will prove mysteriously incapable of damaging brickwork!
There there's these two others from last month, which I'm not totally sure we posted:
What have we learned? The next iteration of vehicle-centric action series Grand Theft Auto will have vehicles in it. Also swimming pools.
I am sure GTA 5 will be jolly good and its definitions will be very high. Great. But please put Red Dead Redemption out on PC. Please. Don't you understand what the community will do with it, how beloved and long-living it will be? DON'T YOU UNDERSTAND.