Prospekt: Half-Life Opposing Force Fan Sequel Released
Adrian Shephard returns!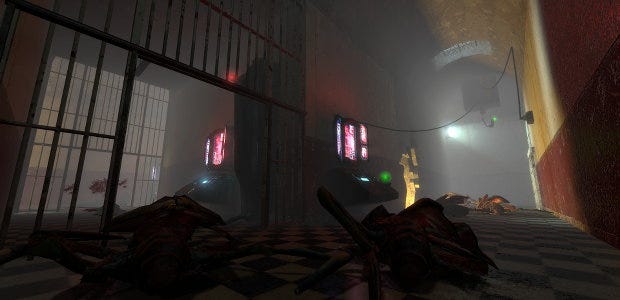 A fan-made, semi-official follow-up to Opposing Force, the Half-Life expansion Gearbox made, is now out. Prospekt [official site] continues telling Half-Life-y events from the perspective of marine Adrian Shephard, who's still chasing after Gordon Freeman. This time he's helping Gordo, though, causing trouble out of sight for the Combine during HL2's Nova Prospekt section and onwards. It's the work of fan Richard Seabrook, and Valve have given him the all-clear to sell it. This can only be good news for my dream of Valve endorsing my career as a writer of erotic Dog/turret fanfic.
ANYWAY. Prospekt follows Opposing Force's trick of telling a story we know from another perspective. Gordo's breaking into Nova Prospekt, and his Vortigaunt pals have decided to call in help from Shepard, who has been in some limbo or another since for years. His adventure rolls on for 13 levels, which Seabrook says will take about as long as Half-Life: Episode One (a few hours, then).
The return to Nova Prospekt brings a bit of a sprucing-up, with new textures, models, particle effects, and so on. It's not 2004 anymore, you know.
Prospekt also goes to Xen, a place many fear to tread. We've not seen Xen in Half-Life 2 at all, and the Black Mesa gang remaking Half-Life 1 in HL2's engine cut Xen from their first release.
Prospekt was due to launch last week, but was pushed back to dodge Steam's Lunar New Year Sale. Probably sensible, that. Prospekt is now out and costs £7.50 on Steam. Even if it still says "Pre-purchase", it doesn't mean it.