Halo Infinite will have you grappling across a wild open ringworld
Halo Infinite's gameplay debut grapples across a wide open ringworld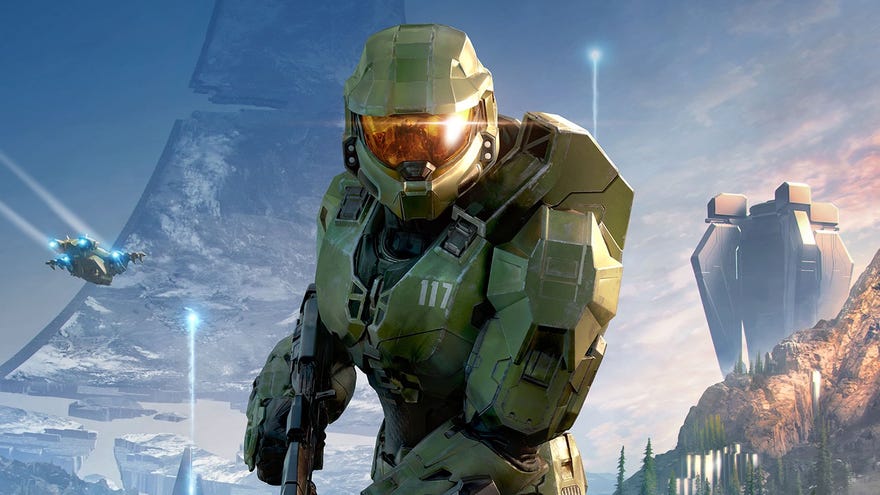 This'll be the big one, then. Following that debut trailer and a full week of teasing, Xbox kicked off their big not-E3 showcase today with a big proper look at Halo Infinite. John "Halo" Masterchief's back on a colossal hula hoop to shoot some space gorillas in the gob - and this time, he'll do that by swinging across a massive open world with a grappling hook.
A
Infinite isn't quite a clean break from the (admittedly naff) plot of Haloes 4 and 5, but it's able to position itself as a soft-reset courtesy of a generous time-jump. Since moment one 343 have pitched this as a throwback to Bungie's trilogy, with this week's box art tease very much aping the cover of Halo: Combat Evolved.
That homage plays out as soon as Chief steps out of the front door. Infinite is gorgeous in its vibrance, drawing the first game's lush forest valleys across a shattered open-world - one populated by flocks of birds and grazing creatures. This does very much appear to be an open-world, mind - one 343 claim is larger than both of their past games combined, littered with objective markers and secrets to dig up.
The idea of an open world Halo still rings strange to me. But Halo has always been about big sandbox arenas, and if this format manages to crank those up to a massive scale, I can see it working. To what I can only assume is Nate's delight, the clip also ends with a great big gorilla mugging to the camera. I have to imagine you'll be pushing through territory to get up close and personal with the lad.
Halo Infinite will be the first in the series to launch on PC and Xbox Game Pass the same day as its console debut this winter. There's be plenty Halo to get through 'til then, mind, with Halo 3: ODST and Halo 4 scheduled to make their way to The Master Chief Collection before Infinite drops. Alright, here's that new cinematic trailer:
Whatever you call it, hit our E3 2020 tag for more from this summer's blast of gaming announcements, trailers, and miscellaneous marketing. Check out the PC games at the PlayStation 5 show, everything at the PC Gaming Show, and all the trailers from the Xbox showcase, for starters.