Handbuilt: Unreal Engine Editor Going VR
Fiddling in cyberspace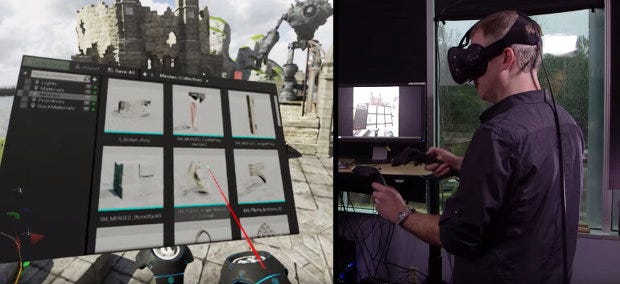 Making games is easy, everyone knows. Developers write a letter to their computer saying what they want and draw it a few pictures, then the computer does all the hard work. But soon, all people will have to do is wave their arms about!
Virtual reality is coming to the Unreal Engine 4 editor, letting folks step inside their worlds as they build them with motion controllers. It all looks very The Future (or The Future as seen in '90s sci-fi movies). Observe:
Obviously that'd be a pain in the bum to use all day (not to mention the arms and eyes) and, even if VR does take off this time, I'd be astonished if any devs will work that way full-time. But when it comes to laying out broad sketches or fiddling with fine details, being able to step inside the world and shunt stuff around with your hands until it looks right could be useful? If you have the money and space and inclination and don't mind your co-workers making crude gestures at you while you're goggled up in cyberspace.
VR editor support will come to Unreal Engine 4 later this year, with a launch date to be announced at the Game Developers Conference in March. Epic's Tim Sweeney said in a blog post last night:
"Using the Oculus Touch and HTC Vive motion controllers, your movement in the real world is mapped one-to-one in VR; you can reach out, grab, and manipulate objects just as you would in real life. You already know how to use this tool, because it works like the world works.

"These are the early days of the revolution in immersive VR content creation, but we're so excited about what's up and running that we couldn't keep it a secret anymore!"
These are early days indeed.