Hassault And Battery: Gotham City Imposters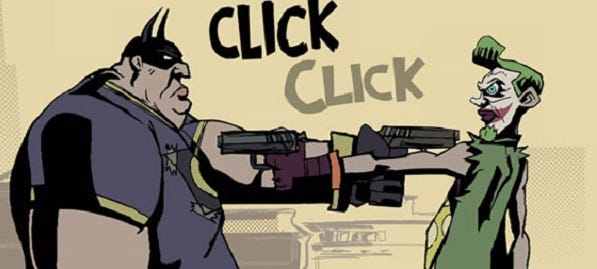 I still can't quite believe that Gotham City Imposters is officially licensed. Coming across as a blend of Kick-ass and Batman, its comedic and yet brutal take on a Gotham without its iconic protector and his gruesome nemesis is too crazy to receive DC Comics sanction, surely? Apparently, and thankfully, that's not the case, with a new animated short demonstrating precisely why I'm amazed and gleeful that the game exists. There's a massive dose of customisation, allowing you to create a suave Joker or an unkempt and overweight Batman, and the game is currently in a short closed beta. From what I can gather, its multiplayer team-based madness is enjoyable and, well, mad. Watch this and feel your mind boggle.
Monolith are behind the game and it's definitely tapping into No One Lives Forever's style, both in terms of its crazy gadgets and its tone. There's another insane trailer and some gameplay footage here. Did any of you manage to get into the beta?