Hatoful Boyfriend: Holiday Star Remaster Due In Autumn
Tell it to the birds and bees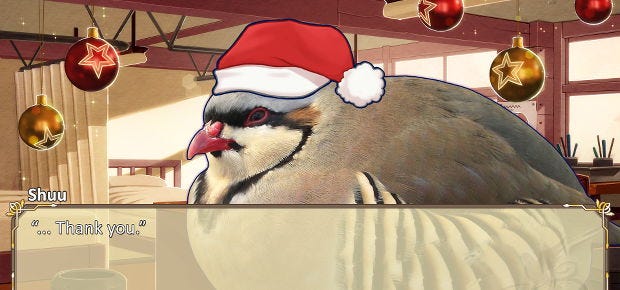 You may have thought yourself an animal lover before, but Hatoful Boyfriend taught us to really love animals. The dating sim starring a human girl in a school for birds - actual, proper birds - fizzed with madcap charm, and it was grand when Mediatonic and Devolver Digital remastered it to introduce it to a larger audience. Now they've having a crack at the sequel, Hatoful Boyfriend: Holiday Star. This Christmassy tail [tail, like a bird's tail] is due to arrive this autumn.
As publishers Devolver explain, "Hatoful Boyfriend fans will travel to fantastically styled worlds, meet interesting new chickadees, and find romance in elegantly designed winter wonderlands and a new mysterious watercolor world. Dust the snow off your wings and take flight with both familiar faces and new friends in extraordinary adventures hatched from the whimsical mind of the series creator Hato Moa and developer Mediatonic!"
Which sounds lovely. Check our review of the first Hatoful remaster for more on this strange and wonderful world.
If you can't wait until autumn, you can download a demo for the un-remastered original English release of Holiday Star, which came out in 2012, over here. I don't know why you wouldn't want to come to the remastered version fresh, though.