Have Some Wilde Brawls In Foul Play
All the game's a stage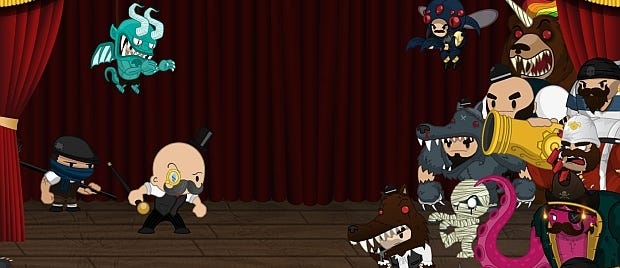 There is a brilliant, subtle pun in Foul Play that took me way to long to figure out. Mediatonic's cartoonish brawler is launching on PC today, and in it the Victorian daemon-hunter Baron Dashforth recounts his life story as a stage show. It is the Foul Play of the title, see? How that slipped past me I'll never know. Perhaps I was too taken with the dashing and daring Baron as he refights his life for the audience's approval, where how you fight is more important than simply winning.

Because it's a show, so style matters as much as the substance of a kick to the kneecaps. You need to combo attacks together to get the audience excited, and they're right at the bottom of the screen cheering, so you can tell how you're doing.
THRILL the baying audience with your incredible presence! Perform shattering takedowns, throws and reversals so perfect you'd swear they were choreographed backstage! String together awesome attacks as the Baron, or have a friend join as your loyal companion Scampwick. Electrify the spectators with linked and special attacks - win the audience with flair and showmanship, and use every stage-trick you know to bring the house down!
The Baron's fanciful tales will drag you over castles, past pyramids, all the way to Atlantis, but only when the set changes. It looks like a lovely concept.