Have you played… Fahrenheit (or Indigo Prophecy)?
A Mayan what?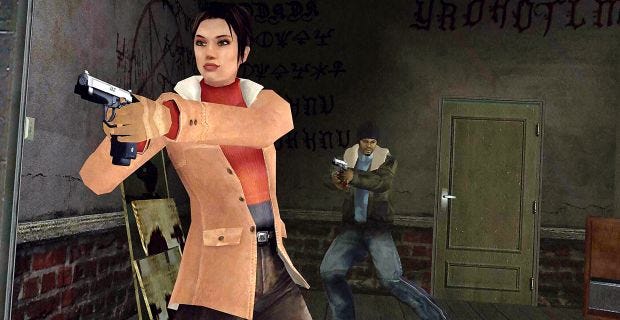 Have You Played? is an endless stream of game retrospectives. One a day, every day, perhaps for all time.
Let's play a little game: how much of Fahrenheit (or Indigo Prophecy for US folk) do you remember? I remember:
Mopping up blood
Having sex in a dirty old train
Mixing antibiotics with alcohol and dying alone in my flat
Aside from it being a 12 year old game, it's hard to remember the adventures of blando man Lucas Fahrenheit, because apart from the cracker opening it was all utterly insane. There was a supernatural cult, possession, magic flying baddies, weird visions, old ladies with witch-like powers, all set in a modern-day United States and arranged in an mostly insensible way. Here is a small excerpt from the plot (taken from Wikipedia):
"Lucas's ex-girlfriend, Tiffany Harper, is eventually kidnapped by the man who approached Lucas in the diner, a Mayan Oracle, in an attempt to draw Lucas out. In his efforts to save Tiffany, both she and himself are killed. However, he is subsequently brought back to life by a group of AIs called the "Purple Clan", one of whom was disguised as Agatha's ghost."
A popular joke about the antagonist of the game is that he is a manifestation of the internet. He flies, dodges bullets and punches very hard. Which is an absurd proposition compared to what a real manifestation of the internet would actually look like - a giant blob of pornographic flesh called "lol" who constantly yells out where he is and what he's doing.
You can get Indigoheit as a HD remaster these days, if you want to remember more of it. Myself, I'm content with the memory of dying from a medical misadventure.