Have You Played... Final Fantasy VII?
History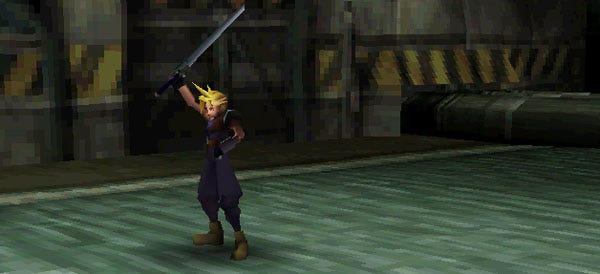 Have You Played? is an endless stream of game retrospectives. One a day, every day, perhaps for all time.
Naturally, I'm one of those awful snooty elitists about it these days. Doesn't mean I didn't play it. Doesn't mean I didn't obsess about it at the time.
I played it on PlayStation initially, for what it's worth. I did try the PC version later, but insane controls held me back. I played it during my second year of university, and it is not an exaggeration to say that Final Fantasy VII cost me a First degree. I played it constantly for a fortnight, in a tiny boxroom where we kept the PlayStation and a small second-hand television, my housemates seething that they could not access Tekken 3 and Premiership Manager while I lost myself to the adventures of Cloud, Tifa, Barret et al. It really did feel like an adventure, not a chain of challenges - this grand odyssey in a place of wonders and horrors.
I look at it now - screenshots or videos, let alone try to play it - and it's hard to understand why it cast such a spell on me. The character designs that launched a thousand stereotypes, the plain, simplistic, trope-heavy dialogue, the many endless cutscenes - the Final Fantasiness of it. I suppose that, had it been a one off, it would still shine brightly in my memory, but its legacy defined games, gaming and gamers in a way that has not been universally positive. At the time, FFVII felt like a signpost to a bright new, more expansive future for big budget games, but if anything it seemed to cause a narrowing, particularly in the JRPG space.
Most of all though, I don't understand why I or anyone else would want to play it, remade or no. Its magic, back in the tail end of the 20th century, was to transport the player to what felt like a whole new world, with a sweeping scale and an increasingly apocalyptic tone. To walk through that world again would only show up more of its limitations, of which there are a great many. Let it lie.