Have You Played... From Dusk Till Dawn?
Stake it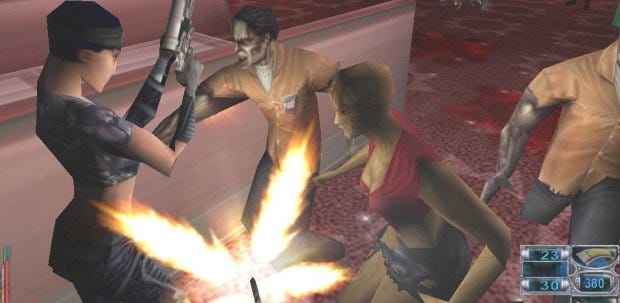 Have You Played? is an endless stream of game retrospectives. One a day, every day, perhaps for all time.
I do love to talk about Cryo, my arch-nemesis for the first few years of what I so confidently call a career. They created bad games with so much vigour and effort, like badness was something that for them required the hardest work. And little they made was as all-encompassingly dreadful as From Dusk Till Dawn.
There are various approaches one could take to this license. The film, released in 1996, is itself a deliberate mishmash of genres, conflating road movie, ultro-violent prisoners-on-the-run escapade, and of course, vampire horror movie. What a mix of options to choose from! Being Cryo, famous for incoherent adventures that - let's be generous - reinterpreted previous works of literature, they could simply have presented their understanding of the events of the film. But with, I dunno, the two leads replaced by sentient pigeons. That time travel.
But as it turned out, Cryo intended to step outside their norm for this one. So perhaps a first-person vampire shooter? No of course not. They went for a sort-of third-person action shooter thing - the sort of game that might emerge if you were to describe Nocturne over a bad phone line to an elderly grandfather.
Seth Gecko, on death row, is put on a prison ship. But there are vampires on the prison ship! Yup, they got the license for From Dusk Till Dawn, and used it to make a barely functioning third-person shooter on a boat. Raise a glass to Cryo, everyone.