Have You Played… Hi-Octane?
Wiped out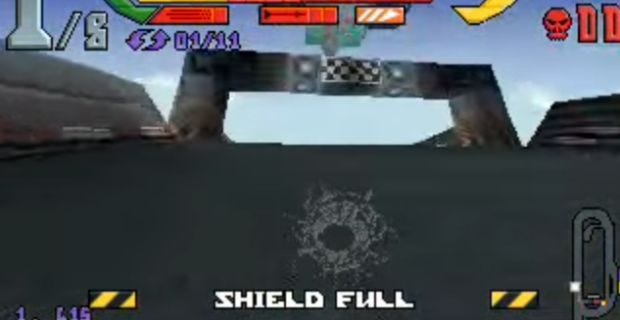 Have You Played? is an endless stream of game retrospectives. One a day, every day of the year, perhaps for all time.
I didn't have Wipeout as a young 'un. I had Hi-Octane. As a racing game about weaponised hovercars it was probably not as good and not as popular. But see, when you changed views, to the viewpoint of sitting in your car? You could see the bullet holes as they appeared in your windshield. That was incredible to me in 1995 (or whatever subsequent year it was in which I actually played the game). It blew my little mind.
It was made by Bullfrog, when Bullfrog was still a physical entity and had not yet dissolved and become the disembodied and vaporous thoughts of Peter Molyneux wandering around the offices of EA, like a ghost trapped in a condemned building. It had hovercars and missiles and miniguns and futuristic race tracks. You also had to drive through special refuelling areas to keep your petrol gauge filled. If you didn't, you'd grind to a halt and have to be dragged off for an enforced pit-stop. I don't think arcadey racers have done anything like that since then. And maybe they have their reasons.
Unlike its competitor, it has become an entirely forgettable futureracer, while Wipeout's place in videogame history is as secure as an ancient piece of gum stuck under a desk. But I'll remember it. And to whoever at Bullfrog did the cockpit animations – nice bullet holes.