Have You Played... Hitman: Sniper Challenge?
Promo minigame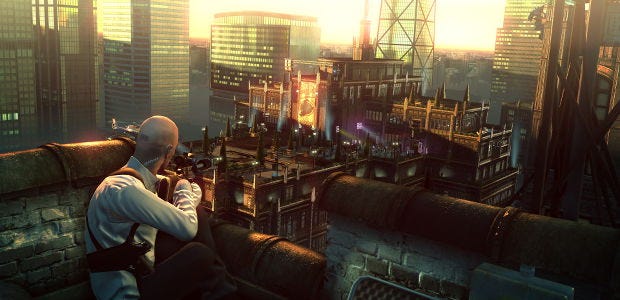 Have You Played? is an endless stream of game recommendations. One a day, every day of the year, perhaps for all time.
If you, like me, bought Hitman: Absolution for a couple of quid on sale because you were curious, you too might have missed the second game it comes with. All Hitman games are puzzle games at heart, if you play them with any degree of finesse, and Absolution's promo minigame Hitman: Sniper Challenge amps that up as a high-scoring sandbox point 'n' click adventure game where your cursor is a crosshair. It's a fair bit of fun for a freebie.
Sniper Challenge perches 47 on a rooftop with a sniper rifle across from the penthouse apartment of his murdertarget, who is throwing a big party. Your objective is to shoot him in the face, which you can do by putting the crosshair over his face then firing. It's easy enough, but won't earn you many points. Taking out certain extra targets, discovering strange things, and killing people stealthily or in creative ways will earn you extra points, which you can spend on upgrades to be more lethal the next time.
Like any classic adventure game, there's a lot of fun in looking around and clicking/shooting random objects. Odd objects and people are hidden around the map, and you can discover some fancy murdertechniques.
It's short and easily exhausted, but is worth a punt as something you may have kicking around your Steam library anyway. Square Enix have expanded on the idea with Hitman: Sniper [official site] for pocket telephones; I wonder if they'll bring that to PC like they have Hitman: Go.