Have You Played... Kingdoms and Castles?
Bucolic building sim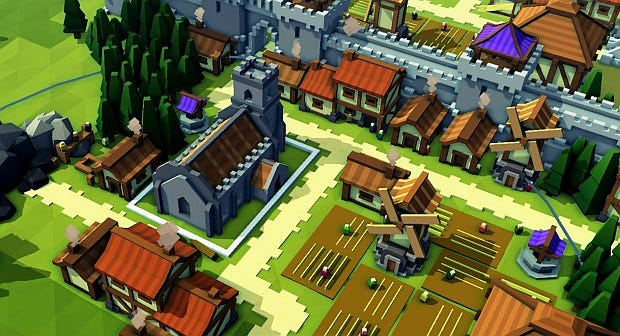 Have You Played? is an endless stream of game retrospectives. One a day, every day, perhaps for all time.
I spent a long, lazy weekend with Kingdoms and Castles and it was one of the most purely pleasant gaming experiences I had in 2017.
K&C is a town management game in which you place down homes, farms, and storage buildings, then defend yourself against occasional and mostly ineffectual viking raids and dragon attacks with castle walls and archer turrets.
Like the old Settlers games, the primary satisfaction of K&C for me wasn't combat but growing my town. The simple, blocky art style is cute and colourful, and I spent a lot of time just swooping the camera in close to watch the peeps wander back and forth while they collected crops, visited pubs and walked home at night.
There's none of the complexity of a citybuilder like Cities Skylines here, aside from a very basic happiness mechanic that's partly informed by building adjacencies. Thank goodness. I love Cities Skylines but I'm glad to have an alternative. K&C is the citybuilding equivalent of a warm bath.