Have You Played... Left 4 Dead 2?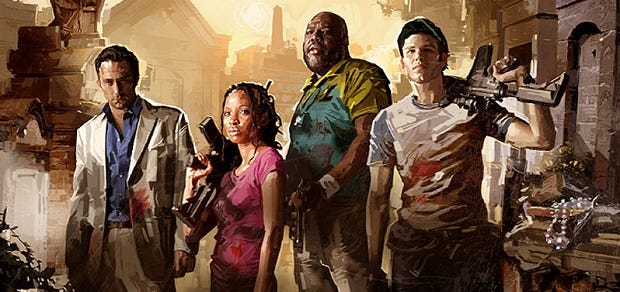 Have You Played? is an endless stream of game recommendations. One a day, every day of the year, perhaps for all time.
Of all games, Left 4 Dead and its sequel might well be the ones I miss the most. Sure, I could still play them today if I wanted to, but who would play them with me? They're two of the smartest and most atmospheric cooperative games I've ever played, but I tend to tip my hat at a slightly more approving angle in the direction of the second because it has a wonderful sense of place. It also has improved zombie gore.
The basics of Left 4 Dead are brilliant - the AI director mixing up the threats on each attempt, the desperate rush to save a fallen companion, the red rain that follows the BEEP BEEP BOOM of a pipe bomb. Back when Left 4 Dead 2 was part of my daily diet, I invented all kinds of survival scenarios, games within games that sometimes required mods but more often simply required other players willing to experiment with odd, self-imposed rules.
But putting the actual shooting and surviving to one side, Left 4 Dead 2 earns its place in the pantheon of greats thanks to the beauty of its environments and the way that it uses a place as a theme. I love that the familiar musical stings from the first game have been recreated, Southern style, and that an organ adds a delirious quality to The Passing's horde attacks while a banjo frantically attempts to keep up with the panicked drums of Dead Center. Then there's The Parish.
The look of the game is as strong as the audio. The passage of time from one act to the next is noticeable in the changing quality and level of light, and the transition throughout Swamp Fever and Hard Rain is as attractive as any weather pattern I've ever seen in a game.
And, yes, I preferred the new characters to the original four. Nick had a proper arc and everything!