Have You Played... Peggle?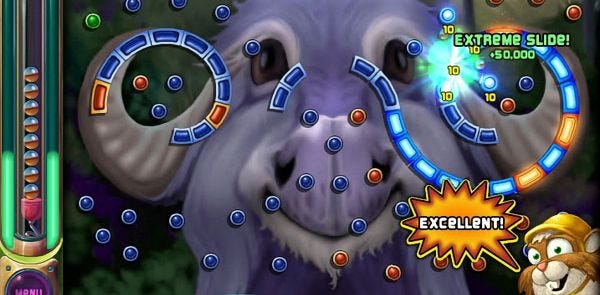 Have You Played? is an endless stream of game recommendations. One a day, every day of the year, perhaps for all time.
Sponk. Spoink spoink spink sponk sponik. Brrrlalalalaallling! Have you played Peggle?
We have a master document that lists all HYPs we've written, apart from any Alec does because HE NEVER ADDS THEM. So when thinking about a game as RPSy as Peggle, Ctrl-Fing the doc for the game left me really rather surprised. Peggle is a game that feels like part of our origin story - we even used to measure demo downloads in how many Peggles of hard drive they took up. Remember demos?
Of course, an eight year old game is something newer readers may have entirely missed! A grown adult who can vote would have been 10 when it came out! So it's possibly rather important that we don't let anyone miss out. Play Peggle. You know what? I'm not even going to explain what it is. You should have the pleasure of finding that out for yourself. It's only £4.25.