Have You Played... Sacrilege
sacrilege, sacrilege, sacrilege, you say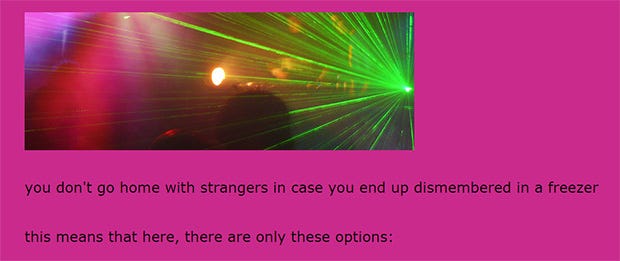 Have You Played? is an endless stream of game recommendations. One a day, every day of the year, perhaps for all time.
Sacrilege is a free interactive fiction game about trying to pull guys in a nightclub. It's by Cara Ellison.
Sacrilege is difficult for me to play. By which I mean 'painful.' It's so very different from how I live, and how I lived even before I closed the doors on true youth. I have never experienced any of what happens on Sacrilege's dancefloor, from either 'side', and to say my feelings about that are mixed would be a very deliberate understatement in order to avoid bringing drama to my door.
And yet.
And yet it resonates.
It resonates because it talks of longing and rejection, of self-belief alternating wildly with self-doubt, and sometimes all the way to self-loathing. That it resonates with me, white straight middle class male with a kid me, is important, because it's offering a viewpoint that is neither my own or anything like the one that games usually give me to see through. Not a thing like it. That shouldn't be so rare. It's important. It's human.
As well as my own hurt, about what I've never experienced, Sacrilege showed me someone else's hurt. And someone else's horror about how others might see them, or hurt them. And someone else's needs. And someone else's power.
Disclaimer - Cara Ellison is a freelance contributor to RPS. Please seek alternative opinions on Sacrilege if this concerns you.