Have You Played... Tharsis?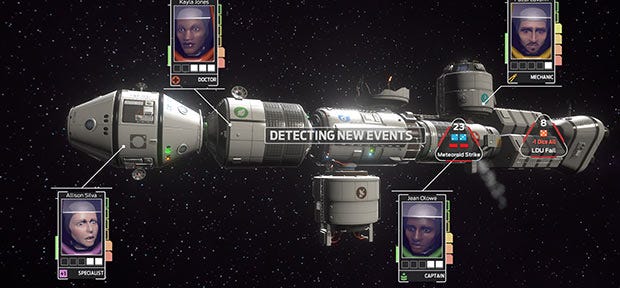 Have You Played? is an endless stream of game retrospectives. One a day, every day of the year, perhaps for all time.
Tharsis spawned a miniature debate: are random number generators good or lazy design? Can they ever be fair?
That's because Tharsis is a space ship survival game in which you're in control of a crew on a mission to Mars. In the game's introduction, your ship is damaged and two of your crew are killed, and it falls to you to direct the remaining men and women around the ship to repair the damage before the next disaster strikes.
Repairing that damage is performed by rolling dice, meaning that the outcomes are fundamentally random. You can of course employ strategy in the way you use the differently numbered dice, and how you protect yourself from total failure by 'investing' in securing food, or sleep, or other resources. But ultimately the game is powered by a dice roll.
I found it unsatisfying. The dice rolls are much more satisfying than an inexplicably missed shot in XCOM, but it's a game about clearing up constant, repeated, unavoidable disaster. I found that I want the axis of my control to extend beyond putting out fires.