Have You Played... Zuma Deluxe?
It's like Bejeweled but with a frog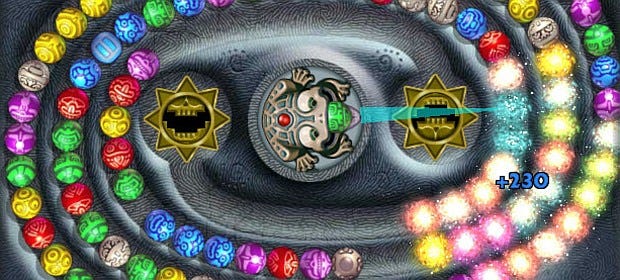 Have You Played? is an endless stream of game retrospectives. One a day, every day, perhaps for all time.
The lesser loved of Popcap's moreish games, lacking the bombast of Peggle, character of Plants vs. Zombies or the pure relaxation of Bejeweled. Still, I love Zuma, a game about a frog spitting balls at a big line of balls.
Like Bejeweled, Zuma is about matching three colours. You fire a green ball at two other green balls and the match of three vanish, causing all the balls behind it to roll along. You need to clear the entire chain to win and normally do so within a set time limit.
That adds a little aim-and-shoot skill to the game. You need to be making matches quickly, but the more matches you make the more the chain of balls will be moving and the harder it is to hit your mark. Miss and you'll have just inserted a coloured ball in a useless position, and the game quickly gets hard enough that those are hard to clear.
If you've grown tired of Bejeweled, Zuma Deluxe hits many of the same joys. It's available on Steam and it's way better than Chuzzle.