Headshotter Well Good: Sniper Elite V2 Expands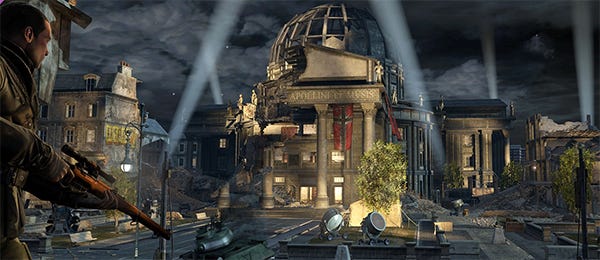 Rebellion's Sniper Elite V2 was quite good but not great, wasn't it? Come on, do my job for me, I'm tired. Also lazy. Also playing Retro City Rampage (WIT very soon) has fried my ability to concentrate on anything. Kill me, basically.
My point, if indeed I do have one, is that the quite good Sniper Elite V2 has some DLC, and hopefully that is quite good too.

It is called 'The Landwehr Canal mission', it is set in night-time Berlin, and it offers three new weapons, one of which is confusingly an assault rifle rather than a sniper rifle. Hmm, that doesn't sound very snipery to me. The mission also sounds a little Hitmanny, in that you need to take out three high-ranking generals having a secret meeting.
I can tell you no more, though this link can. Jim asked me to post about this and so I have. But this post feels far too short now, so I'll extend it by posting some photos of my cat: