Heartbreak High looks like the break-up simulator for me
No dating for me, thanks!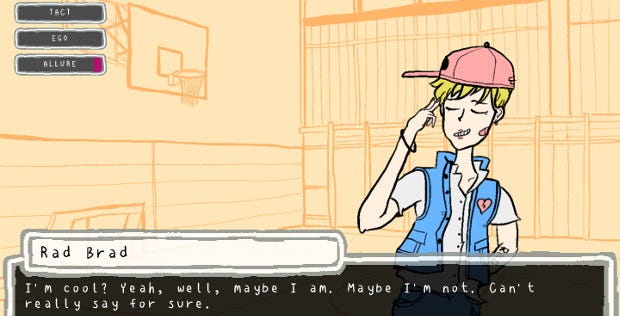 I'm glad you're all enjoying those there 'dating simulators' but what about those of us who are such trainwrecks that we've ploughed a romantic bulldozer through enough hearts and left enough wreckage in our shameful wake to realise it'd be immoral if we didn't swear off dating? Thankfully, a game is now here for us. Heartbreak High: A Break-Up Simulator is an anti-dating game, a game where we're already adored by everyone and dating our whole class, and now we're going to break up with every last one of them. This, I can do. Coach, put me in.
With 40 minutes until the end of the school day, it's breakup time, baby! 13 breakups are on the docket, so let's not drag our heels. There's no need to be a dick about it, mind. Through branching dialogue trees, we'll convince the breakees that no, this isn't a joke and yes, this really is happening and no, they don't have a say in it. Some will not make it simple, leading to minigames including a Pong-y tennis match, a little stealth, and some turn-based JRPG violence. No one ever said breaking up was easy.
Supposedly you can also choose not to break up with people but... why would you do that?
I'm so sorry to everyone I have ever dated, some of whom may be reading this. I was very bad at the whole thing, but especially the break-up. I really am sorry. This isn't one of those there 'jokes' I try my hand at every now and then: I'm a mess and have been a mess and I have treated you badly, and I am sorry. I'm trying. And I've stayed single for four years so... at least I'm containing the damage now? Sorry.
Heartbreak High: A Break-Up Simulator is out now for Windows and Mac. It's £4/€4/$5 on Steam and Itch.io. It's made by Alec Robbins and Good Bit, yeah?