Hearthstone's next expansion coming April (with dinos)
Exeunt, pursued by T-Rex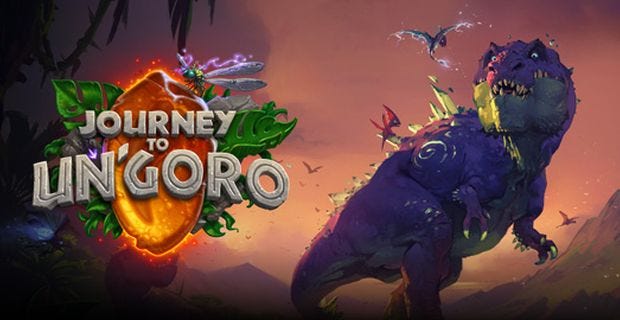 A new expansion for card-thirsty players of Hearthstone [official site] has been announced, bringing with it splurging volcanoes that deal random damage, elemental fire birds that resurrect themselves stronger than before, and dinosaurs that can adapt as a game goes on. There's going to be 135 new cards but most interesting for Hearthstoners (I'm guessing!) is the new Quest card type, which let's you setup a goal during the match and rewards you with a powerful card if you manage to complete it.

For example, you might have to summon a number of minions of a certain type to be awarded with a lady who buffs your health to ridiculous levels. I'm not so practiced in Hearthstonery to know exactly what the ramifications of such a mechanic might be. But here's a very enthusiastic video of Blizzo-men Jason Chayes and Ben Brode talking about Quest cards, the rando-dam volcano, and some other specifics of the expansion.
Also stomping into the game will be the 'Adapt' ability. Let's learn about that from the announcement.
The new Adapt keyword allows a minion to become infused with elemental power, granting it new properties. Similar to the discover mechanic, you will be presented with three options when you play a card with Adapt. You can choose one of these three options to immediately buff your minion. There are ten total Adaptations to choose from, so you'll have plenty of options to respond to threats presented by your opponent.
So, for instance, you might add 3 attack strength to a dino, or give it the Taunt ability. Or a Deathrattle power! Or Windfury! I have no idea what I'm talking about.
Importantly, the Quest cards will always appear in your opening hand, but your opponent will be able to see them when they're played. There are more details about it all in Blizzard's announcement post and they say more card reveals will happen from March 17, while the expansion itself is set to land sometime in "early April".