Ninja Theory launch Hellblade: Senua's Sacrifice
In the membrane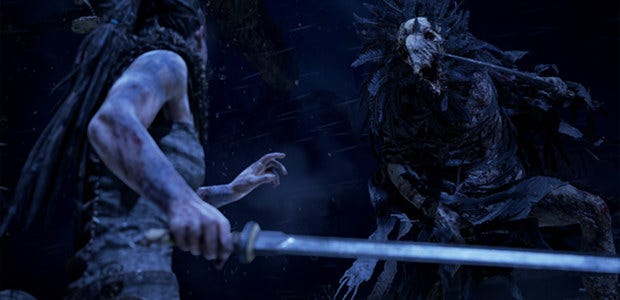 Ninja Theory, the gang behind Enslaved: Odyssey to the West and DmC: Devil May Cry, today launched their new story-driven stabber Hellblade: Senua's Sacrifice [official site]. This one's a bit slower and moodier than those two, starring a Celtic warrior who grapples with her own mental health as she goes on a vision quest into the Viking underworld. Ooh it's worse than a garden centre on a Bank Holiday Monday.
Hellblade is less of a murderfest than one might expect from Ninja Theory, with more walking and puzzle-solving than Brutal! and SSSensational!!! action. It certainly does have stabbing, mind, and with one nasty twist: the more Senua dies, the more corrupted she becomes, eventually leading to a full-restart game over.
We've plenty of games about folks who are insane in the membrane, insane in the brain, and crazy as a coconut, but Ninja Theory say they've tried to make this less of the usual kookfest. As product development manager Dominic Matthews told Red Bull Games:
"Through Wellcome, a global charitable foundation, we've worked with neuroscientists as well as people who have lived-experience of voice-hearing, visions and having unique beliefs. In particular, we've worked closely with Professor Paul Fletcher – psychiatrist and professor of health neuroscience at University of Cambridge – to understand the scientific foundations of psychosis and with a local recovery college group who have kindly told us of their experiences and helped us realise them in-game. This has done so much to not only help us make the portrayal realistic, but also rich and compelling. It would have been wrong to go into making a game like Hellblade without conducting proper research and we're incredibly thankful to all of our collaborators in the area of mental health for the support and insight they've given us."
Also, it looks pretty and I'd like to stab those monsters.
Hellblade: Senua's Sacrifice costs £24.99/29,99€/$29.99 on Steam and GOG. Our Adam was planning to tell us all Wot He Thinks but he's off on holiday, so wot he thinks currently is likely along the lines of "I'd love an ice cream" or "I don't even need to wear clothes today."